Oxford University infrastructure investment research recognised by UN Secretary General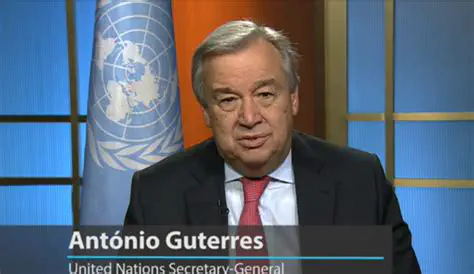 The importance of practical solutions to improve infrastructure decision-making have been recognised by the UN Secretary General, António Guterres, in a message to the Leaders of the Coalition for Climate Resilient Investment (CCRI).
In the letter of 6th October, Mr Guterres shared his priorities for making the world more resilient and the central role that CCRI will play.
Professor Jim Hall, leader of Oxford University's 'Oxford Programme for Sustainable Infrastructure Systems (OPSIS)' is a member of the CCRI Leaders' Roundtable.
OPSIS focuses on shaping the future of resilient and sustainable infrastructure through research and education, to improve decision-making, illustrate and explore different futures of development and to plot out paths to sustainability.
Using complex modelling, the OPSIS team developed a national investment prioritization tool being piloted in Jamaica and targeting energy, water and transport infrastructure.
The infrastructure in Jamaica is under serious threat from the impacts of climate hazards including sea level rise, extreme tropical storms and cyclones, increasing intensity of rainfall, increased air and sea surface temperatures.
Professor Hall explains, "Infrastructure locks countries into patterns of development. By providing tools and evidence to inform better decision-making, actors such as government, utility operators, infrastructure investors and rating agencies can make more rational or creative decisions and policy judgements."
He adds, "The national investment prioritization tool will enable local decision-makers to assess climate risk to Jamaica's infrastructure networks to visualise hot spots of high-level economic and social value at risk, in relevant time horizons."
Mr Guterres, in his letter to CCRI Leaders, said, "By 2025, the use of systemic resilience tools, such as the national investment prioritization tool being piloted in Jamaica, should be exponential, and should be available to any developing country as a tool for decision-making".
Read the full text of his 6th October 2021 letter here.
The tool was created by University of Oxford as part of the FCDO/ Green Climate Fund project 'Supporting Investment Decision-Making for Resilient Infrastructure in Jamaica'.
At the project launch in March 2021, Jamaica's Minister of Housing, Urban Renewal, Environment and Climate Change, Pearnel Charles Jr, highlighted its importance, saying while "we can't prevent disasters from happening, we can avoid the ripple effects of climate change if we act on adaptation and resilience today".
The national investment prioritization tool will be launched by a panel including Professor Hall, CCRI, the Prime Minister of Jamaica and Jamaica's Minister of Environment at COP26 this month.