The importance of supporting and investing in Jamaica's climate resilience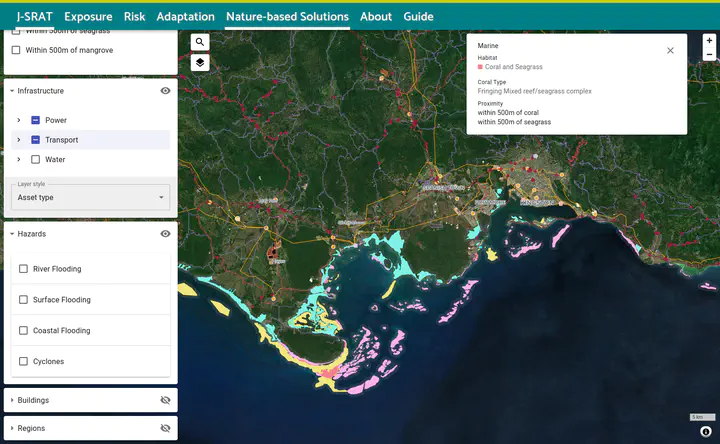 OPSIS has been working with the Jamaican Government for nearly 18 months, after developing the Jamaica Systemic Risk Assessment Tool (J-SRAT), which can identify systemic climate risks and climate hotspots.
Now world financial leaders have come together to support a package aimed at enhancing Jamaica's ability to mitigate and adapt to the effects of climate change.
Jamaica is a global focus as roughly 90 percent of the country's GDP is produced within the coastal zone, making its key industries and over half of the population vulnerable to hurricanes, tropical storms, sea level rise, and land loss.
The Government of Jamaica, together with the University of Oxford, the Inter-American Development Bank (IDB), Green Climate Fund (GCF) and the European Investment Bank (EIB) this week announced a new collaborative partnership.
Speaking at its launch, the Rt Honorable Andrew Mitchell, Minister of State in the Foreign, Commonwealth & Development Office, said: "The UK is delighted to be working with Jamaica through providing technical assistance to support increased investment in climate resilient infrastructure and as a trial country for the Taskforce on Access to Climate Finance. We recognise the dual challenge faced by Jamaica in accessing public climate finance and mobilising private finance for investment in resilience.
"The UK financed the Jamaica Systemic Risk Assessment Tool (J-SRAT), developed by the Environmental Change Institute at the University of Oxford, to support identification of systemic climate risks and 'climate hotspots', as part of our support for the Coalition on Climate Resilient Investment. This tool will help identify and prioritise interventions to enhance climate resilience, including those that can attract private finance."
The Minister also commented on the significance of the Jamaican situation and the learning that will help other nations across the world.
"In July 2023, during the inaugural Jamaica-UK Strategic Dialogue, the UK announced up to £7m to leverage increased access to climate finance as part of Jamaica's pioneering role in the Taskforce on Access to Climate Finance. Jamaica is playing a key role in exploring an innovative, country platform led approach, to simplifying and scaling up access to climate and nature finance and sharing lessons with the most climate vulnerable countries."
Prof Jim Hall, Professor of Climate and Environmental Risks, said: "Jamaica is extremely vulnerable to climate change, and is being hit by more severe hurricanes which throw people's lives into disarray, knock back the economy and throw the government's development plans off track.
"The international community has committed to help vulnerable nations like Jamaica, but resources need to be targeted at projects that will be most effective at reducing risks. That's where the J-SRAT comes in, which identified the most vulnerable locations in Jamaica's transport, energy and water networks and uses that information to target projects that will enhance resilience.
"This will involve strengthening infrastructure, and it will also involve nature-based solutions like mangroves, catchment restoration and urban greening. We are very pleased that the international community is recognising the benefits of big data and analytics that our research group can bring to responding to climate change."
Nigel Clarke, Minister of Finance and the Public Service of Jamaica, said: "Jamaica's development will require significant and sustained infrastructure investment that outstrips the resource capacity of the Government. We will therefore need to attract local and international private investment through structured transactions. In addition, Jamaica's exposure to climate events makes it critical that such investments are climate smart and resilient. The costs of preparing projects, however, compete for scarce resources. In addition, accessing international climate finance for isolated investments often suffers from deficiencies of scale. For these reasons we are absolutely delighted that through close collaboration with our multilateral partners to be announcing a three-pronged approach."
The support announced by the new partnership includes a US$764 million Resilience and Sustainability Facility (RSF) arrangement approved by the International Monetary Fund (IMF)'s Executive Board in March 2023. The RSF arrangement supports reforms to strengthen Jamaica's physical and fiscal resilience to climate change, advance decarbonisation of the economy, and manage transition risks. Reforms include the adoption of a disaster risk financing policy, the addition of climate requirements to the framework for public-private partnerships (PPPs), reforms of the fiscal framework, and incentives for investments in renewables and the greening of the financial system, aimed towards fostering investor confidence and catalysing private climate financing.
Prof Jim Hall said: "This collaborative support will bolster Jamaica's efforts to address the impact of climate change on vulnerable communities. And the lessons we learn will have far reaching implications beyond just Jamaica."